Here to Shed Light on your Energy Rights
We realise that many customers are worried about their energy bills. It is important to know that there are protections available to all energy customers.
You will be able to find practical advice on what these protections are and what suppliers must do to treat customers fairly who are having difficulty paying bills or may be vulnerable to disconnection.
Customer Protection Measures
We recently introduced some extended customer protection measures to help domestic electricity and gas suppliers this Winter. These measures have been put in place due to the current increases in global energy prices.
These include extended moratoriums on disconnections, longer repayment time periods for customers in debt and a range of protections for Pay-as-You-Go customers.  For more information, go to our Customer Protection Measures
Vulnerable Customers
Customers may find themselves in vulnerable situations at different times. If you, or a member of your household is a vulnerable customer, it is important to let your energy supplier know.
For energy customers, you could be a vulnerable customer if you are critically dependent on electrically powered equipment, life-protecting devices, assistive technologies and medical equipment, or if you are particularly vulnerable to disconnection during winter months because of advanced age or physical, sensory, intellectual or mental health.
Energy suppliers must have a register of vulnerable customers. Customers should also make their suppliers aware if they think they may qualify as a vulnerable customer.
More information on Energy Customer Rights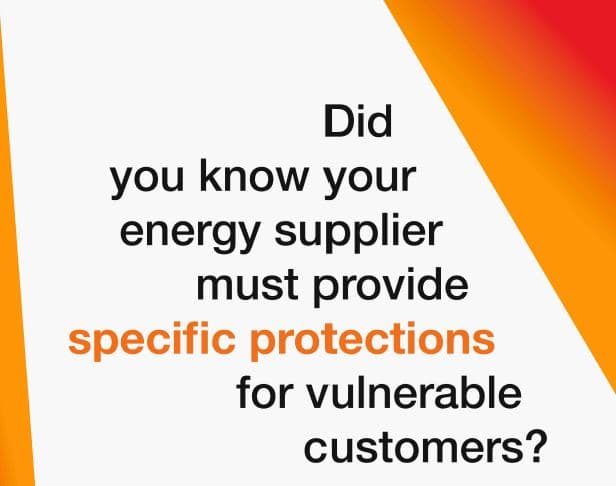 Know Your Rights with Suppliers
We put in place rules that suppliers have to work to when dealing with their customers. These are called the supplier's Codes of Practice and will ensure you know what standard of service you are entitled to when you have any dealings with them.
You can see some of the main customer protection measures that exist for customers under each of the Codes of Practice on our customer protections page.
Energy Engage Code
The supplier-led Energy Engage Code provides a further level of security for domestic electricity and gas customers. Under this code, energy suppliers will not disconnect a customer who is engaging with them.  You can see more details on this code in our energy customer protection measures
Difficulty Paying Bills
If you are facing difficulty paying your electricity or gas bill, you should contact your supplier and seek to come to an agreement on a payment plan. Suppliers have to have trained staff in place, who will deal with your case sympathetically.
Suppliers must arrange practical payment plans to assist domestic customers who may be in debt. These plans have to take into account the customer's ability to repay any debt, and be reasonable and affordable.
If you are experiencing financial difficulties, there are a number of organisations that may be able to assist you.
The Money Advice and Budgeting Service (MABS) is a free money advice service, MABS runs a Helpline (0818 07 2000),  Monday to Friday, 9am to 8pm) and also operates from more than 60 locations nationwide.
Disconnections
A supplier will only disconnect a customer who is in debt as a last resort. If you are in debt or experiencing difficulty paying your energy bills,it is really important that you contact your supplier to discuss what options may be available to help you.
By talking to your supplier you may be able to put in place a payment arrangement that will allow you to manage your bills in a way that suits you better.
Talk to us…
If you cannot find the information you need, don't worry – we're here to help you. If you have any questions about your energy supply, let us know and the CRU Customer Care Team is will do its best to help you.
There are a number of different ways for you to contact us.
Email: customercare@cru.ie
Telephone: 1800 404 404
Writing:  The Customer Care Team, Commission for Regulation of Utilities, P.O. Box 11934, Dublin 24